Daily Vegetarian Recipes.com
Appetizers
Katherine's Seven layer Mexican Dip
This recipe is courtesy of my cousin Cindy's family cookbook. She says the mayo helps to make the dish.
2 cans jalapeno bean dip (10 1/2 ounce cans)
3 medium avocados
1 cup low-fat sour cream
½ cup low-fat mayonnaise (or vegenaise)
1 package taco seasoning mix (I prefer "Garden of Eating" brand)
1 bunch scallions
2 medium tomatoes, chopped
3 ½ ounces pitted ripe black olives
8 ounces sharp cheddar cheese, shredded
2 tbsp. lemon juice
1) Spread bean dip on a large platter.
2) Mash the avocado with lemon juice. Then spread on top of bean dip layer.
3) Combine sour cream, mayo and taco seasoning. Spread on top of avocado layer.
4) Sprinkle with tomatoes, scallions and olives.
5) Top with cheese as final layer.
6) Cover and chill.
7) Serve with tortilla chips.

------------
Cindy's Spiced Pecans
Serve these as an appetizer or pack them as a snack for a long car ride.

1 egg white
2 cups pecan halves
2 tbsp. sugar
2 tsp. ground cinnamon
1 tsp. cayenne pepper
Preheat oven to 300 degrees.
1) Beat egg white until foamy. Add pecans and toss until well coated.

2) Combine the sugar and cinnamon and sprinkle over the pecans and toss to coat.
3) Spread in a single layer on an ungreased baking sheet. Bake at 300 degrees for 30 minutes or until browned. Stir once while cooking.
4) Cool before serving.

Yields 3 cups.
------------
Patti O's Spinach Dip
This dip is similar to that on the Knorr vegetable package, except it is free of ingredients you might not want, like MSG. Use it as a dip or as a spread in a sandwich.
½ cup veggie flakes (available in the spice aisle)
1 cup low-fat mayo (or vegenaise)
1 cup fat free sour cream
1 small container of plain yogurt
1 can of diced water chestnuts
¼ cup onion, diced fine
1 pkg. frozen spinach, thawed and drained
1) Mix all ingredients together.
2) Serve with your favorite crackers or pumpernickel bread.

------------
Guacamole
Delicious and easy to make.
4 ripe avocados
4 cloves garlic, minced
1/4 purple onion, diced fine
1 ripe tomato, seeded and diced fine
½ tsp. cumin
Dash of cayenne pepper
Salt & pepper
1) Peel avocados and remove pits. Mash with potato masher or fork until only slightly lumpy.
2) Blend in other ingredients.
3) Serve with your choice of tortilla chips.
------------
Chickpea Spread
This appetizer is delicious and good for you too.
2 15 oz. cans chickpeas, rinsed and drained
½ red pepper, diced fine
3 cloves garlic, minced
¼ tsp. cayenne pepper
½ tbsp. reduced fat mayo
1/3 cup olive oil
½ tsp. cumin
1/8 tsp. paprika
1 tbsp. chopped chives
salt and pepper
1) In large bowl, mash chickpeas. Can be chunky, but there should be no whole chickpeas left. I used a potato masher.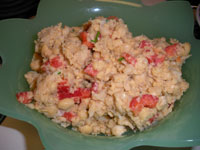 2) Add diced red pepper and stir.
3) In small bowl, whisk together remaining ingredients. Pour dressing over chickpea mixture and blend together.
4) Serve with blue corn tortilla chips or your favorite crackers.
Tip: Leave out the mayo if serving at outdoor tailgate or picnic, and the dip can be left out for a long time.
------------
Spinach and Artichoke Dip
This dip recipe came from a friend who is a good cook. It is the best spinach artichoke dip I have tasted!
Preheat oven to 375 degrees.
1 6 oz. bag of baby spinach
1 10-12 oz. can of non-marinated artichoke hearts (very important to use artichoke hearts in water, not the marinated kind)
1 large pinch of grated Monteray Jack cheese
¼ cup grated parmesan cheese
1 splash of milk
1 tsp. of mayo
2 cloves minced garlic
1 tbsp. minced onion
2 tbsp. Olive oil
Salt and pepper
1) Finely chop spinach. Cut artichoke hearts into quarters.
2) Stir together all of the ingredients, except spinach and artichoke hearts, in a large bowl.
3) Add the spinach and artichoke hearts and mix. Use a wooden spoon and stir carefully so you don't mush up the artichoke hearts.
4) Firmly pack dip mixture into small-to-medium size casserole dish.
5) Cook for 35-45 minutes or until top is bubbly brown.
6) Serve hot with crackers. Dip should stay warm for about an hour.
------------
Eggplant Antipasto
My cousin, who is a fabulous cook, sent me this recipe. In her words: "When I lived in New York, I could have lived off this stuff. It is ridiculous! Serve it with crusty bread, Italian cheeses, and/ or roasted red peppers or tomatoes-- it is a fantastic antipasto….YUM. A little labor intensive, but TOTALLY worth it…"
3 medium eggplant, peeled and cut into 3- by 1/4-inch sticks
3 cups water
1 1/2 cups white-wine vinegar
3-4 garlic cloves, coarsely chopped
1 tablespoon finely chopped oregano
About 1 cup olive oil, plus a bit more to cover
1) Toss eggplant with 1/4 cup salt and drain in a colander set over a bowl, covered, at room temperature 4 hours.(Eggplant will turn brown.) Discard liquid in bowl.
2) Gently squeeze handfuls of eggplant. Bring water and vinegar to a boil in a medium pot. Add eggplant and boil, stirring occasionally, until tender, 2 to 3 minutes. Drain in colander, then set colander over a bowl and cover eggplant with a plate and a weight (such as a large heavy can). Continue to drain, covered and chilled, 8 to 12 hours. Discard liquid in bowl. Gently squeeze handfuls of eggplant to remove excess liquid, then pat dry.
3) Stir together eggplant, garlic, oregano, 1/2 teaspoon pepper, and 1 cup oil in a bowl.
4) Transfer to a 1-quart jar or other container with a tight-fitting lid and add just enough olive oil to cover eggplant. Marinate eggplant, covered and chilled, at least 4 hours.
5) Bring to room temperature before serving. Gets better over time, and keeps for a month or more (if you can make it last that long!)
------------
Mushroom/Pistachio Pate
A friend I recently met in a cooking class shares this recipe. She is a creative vegetarian cook.
Two containers of fresh mushrooms
One large yellow onion (or two small), sliced or chopped
About four cloves garlic, minced
One package of shelled pistachios (unshell them)
Olive oil
Salt and pepper, to taste

1) In a large frying pan, sauté the onions on medium heat in a healthy splash of olive oil. When the onions are translucent, add mushrooms and garlic and sauté a few minutes. Then add the rest of the ingredients.
2) When the batch is warm and bubbling and the nuts are soft, remove from heat. Let the mixture cool till just slightly warm and then pour it into a food processor and puree. Unless….the mixture is still really wet. If this is the case, transfer first to a baking dish and heat in the oven till it becomes a spreadable consistency.
Good on crackers or used as a spread in sandwiches.
------------
Four Layer Mexican Dip
This is my "go to appetizer" when I need to bring a dish to a party and don't have a lot of time. Ready in 5 minutes. You won't have any leftovers!
1 avocado, ripe
1 cup sour cream
1 jar salsa
1 ½ cups shredded cheddar or Mexican blend cheese
1) Mash avocado and spread into 9" X 9" casserole dish.
2) Spread sour cream onto avocado. Then add salsa. Finally top with cheese.
3) Serve with your favorite tortilla chips.
------------
Cranberry Salsa
Your friends will ask you for the recipe. Deliciously different.
2 cups fresh cranberries
1 orange, sectioned and chopped
2 tsp. grated orange rind
½ medium green pepper, chopped
1-2 jalpeno peppers, seeded and chopped fine
½ cup sugar
¼ cup chopped pecans, toasted
3 tbsp. chopped fresh cilantro (dried ok if no fresh on hand)
1/8 tsp. salt
1) Mash cranberries with a potato masher (or use a food processor) until cranberries are coarsely chopped.
2) Stir in remaining ingredients.
3) Cover and chill at least two hours.
4) Serve with sweet potato chips or your favorite tortilla chips.
------------
Tait's Spinach Balls
These spinach balls make a yummy appetizer.
Preheat oven to 350 degrees.
3 boxes frozen chopped spinach, cooked and drained well
2 cups Pepperidge Farm herbed stuffing mix
2 onions, chopped
5 organic, free range eggs, beaten
¾ cup melted butter or butter substitute
½ cup parmesan cheese
2 cloves garlic, diced
1) Combine all ingredients.
2) Make into balls, about the size of a golf ball.
3) Bake at 350 degrees for 15 or 20 minutes.
------------
Pecan Cheese Bites
You can't stop eating these savory cookies.
Preheat oven to 350 degrees.
1 cup flour
1 cup shredded cheddar cheese
1 tsp. cayenne pepper
1 stick butter or butter substitute, softened
Pecan halves
1) Add all ingredients together in large bowl and work the mixture into a ball.
2) Roll into small balls. Place balls on cooking sheet a couple of inches apart and press each one flat with the edge of a fork or tool of your choice. Top each cookie with a pecan.
3) Bake at 350 degrees for 12 minutes.
Makes about 2 dozen cookies.
------------
Barbecue Bean Cups
My mom makes these appetizers for special family gatherings.
Pre-heat oven to 350 degrees.
1 can of 10 biscuits (not Grands, just regular size)
1 can of pink beans or pinto beans, drained and slightly mashed
½ cup ketchup
3 tbsp. brown sugar
1tbsp. Vinegar, cider or white
½ tsp. chili powder
2 cups grated, low-fat cheddar cheese
1) Mix all ingredients together, except beans, biscuits and cheese. Add a little of the cheese to the mixture, about ½ cup.
2) Spray a muffin pan that with no-stick cooking spray and then press each biscuit into a muffin cup.
3) Add ¼ cup of the mixture on top of each biscuit and then top each with cheese.
4) Bake at 350 degrees for 18-20 minutes.
---------------
Fruit and Nut Cheese Ball
This cheese ball is easy to make and tasty with crackers at your next party.
2 8 oz. containers of cream cheese (low fat is fine)
1 small can crushed pineapple, drained
1 tbsp. onion, finely diced
2 tbsp. bell pepper, your choice of color, finely diced
½ cup of walnuts, chopped
½ cup of pecans, chopped
1) Stir all ingredients together, except set aside half of the nuts.
2) Roll mixture into a ball.
3) Stir together remaining ¼ cup walnuts with the ¼ cup pecans. Roll cheese ball in these nuts.
4) Refrigerate over night.
---------------
Baba Ghanouj
Baba Ghanouj is similar to hummus but I like it better. Equally delicious as an appetizer or spread in a sandwich.
3 large eggplants
2 tbsp. tahini
1 tbsp. lemon juice
2 cloves garlic, minced
1 tsp. cumin
1 tbsp. parsley
1 tbsp. olive oil
Salt & pepper
Preheat oven to 425 degrees.
1) Piece eggplants with fork. Wrap in foil and bake for about 45 minutes in 425 degree oven.
2) Once cooked and allowed to cool till you can handle them, cut the eggplants in half and remove filling. Discard seeds and skin. Put eggplant filling in a colander and drain any excess liquid. Press the eggplant to squeeze out any extra liquid.
3) Mash eggplant with a potato masher (or use a food processor). Add remaining ingredients and mix well.

---------------
Cindy's Cheese Straws
These are sure to be a hit at the buffet table.
1 pound grated cheddar cheese
½ cup butter or butter substitute
2 tbsp. vegetable shortening
2 cups flour
¼ tsp. salt
1 tsp. cayenne pepper
Preheat oven to 350 degrees.
1) Melt butter and shortening in saucepan over medium heat.
2) Add grated cheddar and stir.
3) Add remaining ingredients and leave on heat only long enough to melt cheese. Then remove and continue stirring until dough forms.
4) Let mixture cool slightly (easier to handle).
5) Fill cookie press with dough and with fluted tip, extrude "straws" about 3 inches long. (If you don't have a cookie press, roll into a 3 inch straw shape with your fingers.)
6) Bake 10-12 minutes at 350 degrees.
---------------
Miniature Quiche
These little quiche are sure to be the hit of your Summer brunch or shower. Much better than the pre-made frozen ones at the grocery store!
Pastry
1 cup butter or butter substitute, softened
1 8 oz. package of cream cheese, softened
2 cups flour
½ tsp. salt
Filling
1 medium, onion, chopped fine
2 tbsp. olive oil
2 ½ cups grated Swiss cheese
3 eggs
1 ½ cups milk
Salt & pepper
Dash of nutmeg
Preheat oven to 350 degrees.
1) Combine butter, cream cheese, flour and salt in mixing bowl until well blended.
2) Break of small pieces of dough with your fingers and press into miniature muffin cups. Bake at 350 degrees for 3 to 5 minutes.
3) Saute chopped onion in olive oil until transparent.
4) Add 1 tsp of shredded Swiss cheese into each partially cooked crust.
5) Beat eggs, milk and seasonings together. Combine with onions.
6) Pour into shell over cheese until about 2/3 full.
7) Bake at 350 degrees for 20 to 25 minutes or until golden on top.
Makes 60 tarts. May be frozen.