Daily Vegetarian Recipes.com
Breakfast and Brunch

Eggbeaters Garden Omelet
Delicious and healthy way to start the weekend.
3/4 cup eggbeaters (= to 3 eggs)
1 tbsp. low-fat or skim milk
½ tsp. cayenne pepper
½ tsp. garlic powder
Salt & pepper
2 tbsp. diced purple onion
2 tbsp. diced green pepper
1 tbsp. grated your choice of cheese (optional)
1 tbsp. olive oil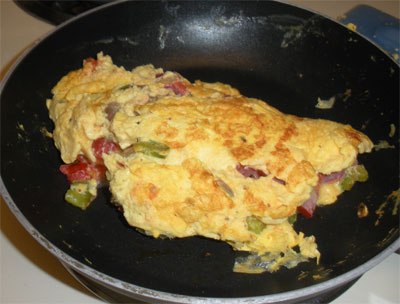 1) Mix together first 5 ingredients with wire whisk.
2) Heat oil in omelette pan or small sauce pan on medium heat. Add onions and sauté a couple of minutes. Add peppers and sauté a few more minutes until vegetables are tender.
3) Pour omelet mixture into pan with vegetables. Using spatula, lift edges of omelet while it's cooking, allowing uncooked egg mixture to flow out so that omelet will cook evenly. Continue cooking until egg is set.
4) Add cheese, if desired. Flip one half of omelet over the other half. It should be browned nicely on the bottom.
5) Serve with toast, veg sausage, fruit or hash browns.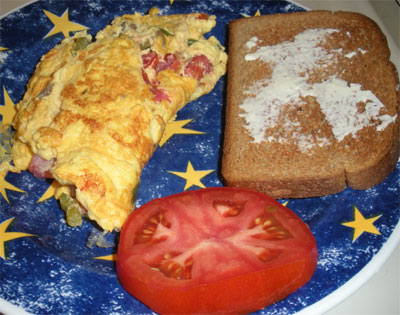 ------------
Ted's Wednesday Breakfast
If you are looking for something different, healthy, delicious, and quick to make for breakfast, Ted's Wednesday Breakfast is it.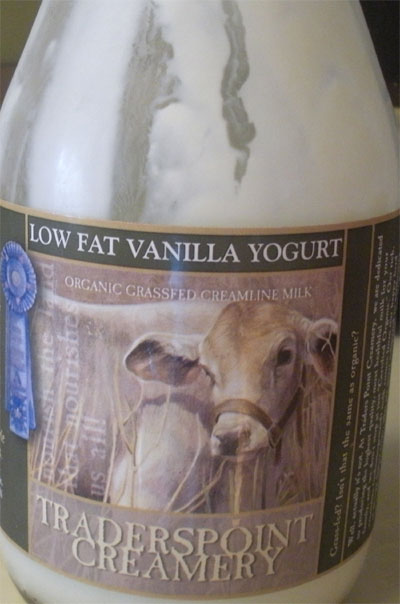 1 ½ cups liquid yogurt (My friend Ted makes his own. If you don't live near Ted or an Amish farm, I recommend Traderspoint Creamery grass-fed, low-fat vanilla yogurt)
2/3 cup oatmeal (not instant), uncooked
2/3 cup fresh or frozen fruit of your choice, sliced
1) Pour half the yogurt in two bowls.
2) Sprinkle half the uncooked oatmeal and half the fruit into each bowl.
3) Stir and serve.
Serves two.

------------
Oatmeal Pancakes
Not only are these pancakes heart-healthy and delicious, but they don't weigh you down like regular pancakes tend to do.
2 cups oatmeal (quick coo king is fine, but don't use instant oatmeal)
3 cups low-fat buttermilk
½ cup Eggbeaters or 2 organic, free range eggs
½ cup flour
1 ½ tsp. baking powder
1 tbsp. Canola oil
1 tbsp. cinnamon
½ tsp. Nutmeg
¼ tsp. Ginger
¼ tsp. Allspice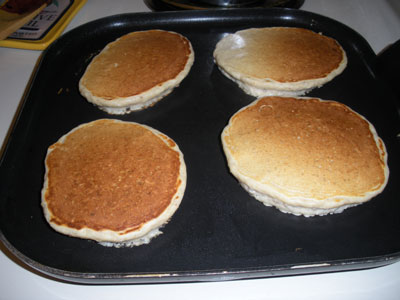 1) Mix oats and buttermilk together in bowl until blended. Place in refrigerator overnight.
2) The morning of your breakfast, add all ingredients together with oat mixture and blend. You may need to add a splash of buttermilk if it is a little thick.
3) Grease a flat skillet and make the pancakes just like you make regular pancakes. If you like silver dollar, make those. If you like one great big pancake, have at it. Generally I used about ½ cup of batter per pancake.
4) Flip pancake and cook other side. Both sides should be golden brown. Tastes great served with a fruit sauce. I served them with a blackberry, blueberry sauce.

------------
Berry Sauce
This sauce is packed full of antioxidants and contains very little sugar. It's very good for you and tastes great! Try it with oatmeal pancakes or frozen vanilla yogurt.
1 pint of blackberries
½ pint of blueberries
1 tbsp. sugar
1 tbsp. honey
1 tsp. cinnamon
¼ tsp. nutmeg
¼ tsp. ginger
1/2 cup water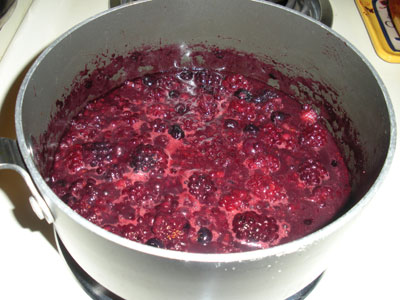 1) Wash berries and mix together with sugar in a medium-sized bowl. Let set about 10-15 minutes so berries macerate.
2) Place berry mix in a medium-sized kettle. Add honey and spices and 1/2 cup of water and bring to a low boil.
3) Boil for about 10 minutes, stirring occasionally.
4) Then reduce heat and simmer about 20 minutes.
5) Berries will burst and you will have a delicious sauce.
------------
Spanish Frittata
This frittata is popular in Spain. They cut it into small slices and eat it as a tapa, cut it into large pieces and eat in on bread as a sandwich, or eat it plain as the main course in a meal.
4 organic, free range eggs
¼ cup low fat milk
1 small white potato
¼ large onion, sliced thin or chopped
1 tsp. cooking oil (either hot pepper oil or olive oil)
¼ cup your choice of cheese, grated (optional)
Salt & pepper
Preheat oven to 375 degrees
1) Cook the potato in the microwave for about 3-4 minutes. Peel potato and cut into large chunks.
2) In medium saucepan, sauté onion in cooking oil on medium-high heat for about 5-8 minutes or until carmelized. Add potato chunks and stir.
3) In a medium bowl, beat eggs. Beat in milk and salt and pepper.
4) Arrange onion and potato evenly in pan. Pour egg mixture into pan. Cook on medium heat about 5 minutes. Add grated cheese, if desired.
5) Place pan into pre-heated oven and bake for 15 minutes or until set and golden brown on top.
-------------
Cheese and Nut Bread
Good choice for a bridal or baby shower brunch.
2 regular size Crescent Roll packages
Filling:
(2) 8 oz. packages low-fat Philadelphia Cream Cheese (at room temperature)
1 c. granulated sugar
1 organic egg yolk (optional)
1 tsp. vanilla
Pecan pieces
Topping:
¼ c. granulated sugar
1 tbsp. Cinnamon
Preheat oven to 350 degrees
1) Spray non-stick spray generously on 8" X 13" pan. Lay one package of Crescent rolls flat on bottom of pan.
2) Mix all other filling ingredients with a hand mixer until smooth.
3) Spread mixture evenly over bottom layer. Then cover the filling layer with pecan pieces.
4) Spread second package of Crescent rolls over top.
5) Mix together ¼ c. granulated sugar and 1 tbsp. cinnamon. Sprinkle cinnamon/sugar on top.
6) Bake at 350 degrees for 30 minutes.
7) Cool and cover--refrigerate overnight before cutting into squares.

-------------
French Toast
Who doesn't love French Toast for breakfast.
6 slice of French bread or other similar bread, sliced about 1 inch thick
2 organic eggs, beaten
½ cup milk
1 tsp. cinnamon
¼ tsp. allspice
½ tsp. nutmeg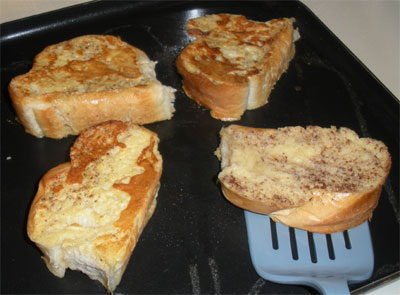 1) Grease a large flat skillet and preheat on medium heat.
2) Whisk all ingredients together (except bread).
3) Dip each side of the bread in the egg mixture. Place each slice of bread in the preheated skillet. Cook for about 6 or 7 minutes on one side or until golden brown. Flip and cook the other side.
Delicious with syrup and/or berries.
-------------
Miniature Quiche
These little quiche are sure to be the hit of your Summer brunch or shower. Much better than the pre-made frozen ones at the grocery store!
Pastry
1 cup butter or butter substitute, softened
1 8 oz. package of cream cheese, softened
2 cups flour
½ tsp. salt
Filling
1 medium, onion, chopped fine
2 tbsp. olive oil
2 ½ cups grated Swiss cheese
3 eggs
1 ½ cups milk
Salt & pepper
Dash of nutmeg
Preheat oven to 350 degrees.
1) Combine butter, cream cheese, flour and salt in mixing bowl until well blended.
2) Break of small pieces of dough with your fingers and press into miniature muffin cups. Bake at 350 degrees for 3 to 5 minutes.
3) Saute chopped onion in olive oil until transparent.
4) Add 1 tsp of shredded Swiss cheese into each partially cooked crust.
5) Beat eggs, milk and seasonings together. Combine with onions.
6) Pour into shell over cheese until about 2/3 full.
7) Bake at 350 degrees for 20 to 25 minutes or until golden on top.
Makes 60 tarts. May be frozen.
----------------
Individual Breakfast Casseroles
Yummy casserole is perfect for Sunday morning.
Preheat oven to 375 degrees
1 cup shredded potatoes
½ onion, chopped
1 tbsp. olive oil
About 3 cups of fresh baby spinach, washed
4 organic free range eggs
¼ cup parmesan Romano cheese, shredded
Salt and Pepper, as desired
1) Sauté onion on medium heat in olive oil until translucent (about 2 minutes)
2) Add shredded potatoes. Let cook about 2-3 minutes. Flip with spatula and cook other side 2-3 minutes as well.
3) Add potato onion mixture to bottom of two mini-casserole dishes, and top with half the shredded cheese.
4) Put baby spinach in hot skillet (that potatoes were in) and cook until it starts to wilt.
5) Add spinach to casserole dishes.
6) Add eggs to the hot skillet and cook just until the white starts to set. Put two eggs in each of the mini casserole dishes. Top with remaining cheese.
7) Bake for 15 minutes.
----------------
Snow Day Brunch Casserole
This casserole will fuel your family well before a day playing in the snow! Loaded with veggies and protein.
Do not preheat oven.
12-16 slices of white bread, with crusts removed
3 cups low-fat cheddar cheese
2 medium-size heads of broccoli, cut into florets
1 onion, diced
1 pepper (your color choice), diced
10 mushrooms, sliced
6 organic, free range eggs
3 cups reduced fat milk
1 tsp Dijon mustard
Salt and pepper, to taste
Non-stick cooking spray
1) Spray 9 X 12 casserole dish with non-stick cooking spray.
2) Steam cook broccoli, onion, pepper and mushrooms (vegetable steamer works well) for about 5 minutes or until tender, but still slightly crisp (you don't want soggy veggies!)
3) In large bowl, beat eggs with milk, Dijon mustard, salt and pepper.
4) Cut bread into diagonal slices. Layer half of the bread slices in the bottom of the pan. Then add a layer of ½ of the vegetables, and ½ of the cheese.
5) Add another layer with the remaining bread slices and then the remaining vegetables.
6) Pour the egg mixture over the bread and veggies.
7) Top with remaining cheese.
8) Place into cold oven. Then turn oven on to 350 degrees. Leave in oven for about an hour and 10 minutes. When knife stuck in casserole comes out clean and top is bubbly and brown, it's done.
Feeds 6 - 8 people.
----------------
Easy Donuts
This is a fun recipe to make with kids.
1 can of plain refrigerator biscuits (7 – 10 biscuits)
½ cup of vegetable oil
½ cup sugar
2 tbsp. cinnamon
1) In large, deep saucepan, heat oil on medium high heat.
2) Using a small, round cookie cutter, cut a small hole in the center of each biscuit.
3) Fry the donuts and the holes in the hot oil a few minutes on each side until light, golden brown.
4) Place on paper towel to drain and cool.
5) Stir together cinnamon and sugar and put into large Ziploc bag. Add slightly cooled donuts and shake. Serve.

Spinach Benedict
Great way to start a weekend morning.
2 English muffins, split and toasted
4 organic, free range eggs
2 generous cups of fresh baby spinach leaves
2 cloves garlic, minced
1 tbsp. olive oil
Hollandaise sauce:
3 organic, free range egg yolks, beaten
1 tbsp. lemon juice
1 tbsp. water
½ cup butter or butter substitute, in small pieces
Salt and pepper
1) In small saucepan, add three egg yolks, water and lemon juice. Cook over very low heat, stirring continuously.
2) Slowly add the pieces of butter and continue stirring until all butter is melted into sauce.
3) Toast English muffins and poach four eggs.
4) In medium saucepan, heat olive oil on medium heat. Add garlic and sauté a minute. Add spinach and sauté another minute, until just wilted.
5) Place each split English muffin on a plate and top each half with ¼ the spinach mixture. Add one poached egg to each half and then ¼ of the sauce.
6) Serve with fresh fruit or hash browns.
----------------
Berry Banana Smoothie, 2 ways
If you like a tart smoothie, try the first way. If you like a creamy smoothie, try the second way. Either way, it's healthy and delicious. If you have kids around, give them the ingredients and let them make their own.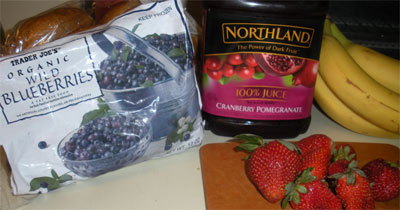 8-10 fresh or frozen strawberries
½ cup frozen blueberries
1 tbsp. honey
1 banana, frozen and broken into chunks
4 or 5 cubes of ice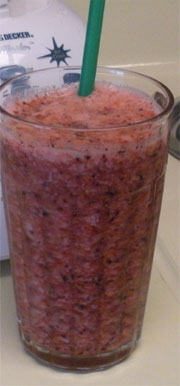 For 1st way, use:
1 cup juice made from dark fruit (I used pomegranate/cranberry juice blend—I think it is blended with apple juice to take away the bitterness of the pomegranate)
For 2nd way, use:
1 cup berry or banana or vanilla yogurt and 1/2 cup milk
1) Put all ingredients into a blender and pulse until well blended.
2) Pour into 2 glasses and add straws.
Makes 2 smoothies
-------------
Broccoli and Mushroom Frittata
Treat your mom to a frittata this Mother's Day. This recipe calls for broccoli and mushrooms but it is easy to make with whatever veggies you have in your fridge.
3 organic, free range eggs
¼ cup low fat milk
½ cup of broccoli florets, cut into small pieces
¼ large onion, sliced thin or chopped
½ cup of mushrooms, sliced thin
¼ cup cheddar or swiss cheese or other cheese that you like, grated (optional)
1 tbsp. olive oil
Salt & Pepper
Preheat oven to 375 degrees.
1) Beat eggs with wire wisk in medium sized bowl. Add milk and salt and pepper.
2) In medium-sized skillet on medium-high heat, add olive oil and onion. Saute about 5 minutes until onion is caramelized. Add broccoli and sauté about 5 minutes more until broccoli is tender. Add mushrooms and sauté another minute.
3) Spread veggies out relatively evenly in skillet. Pour egg mixture over veggies and leave it for 3 or 4 minutes. Gently lift the edges as it cooks to allow liquid center to go out to the edges, as the edges cook first.
4) Add cheese to top of frittata and place entire skillet into preheated oven. Bake for 15-20 minutes at 375 degrees until puffy and top begins to turn golden brown.
5) Remove from oven and serve. Be careful and don't forget that the handle to the skillet will be very hot for a while.
Serve with muffins or toast and fresh fruit. Breakfast for two.
-------------
---------------