Daily Vegetarian Recipes.com
April 21, 2016
Introducing the GREENS Cookbook:
Fifty Plates of Greens!
Perhaps you already know that leafy, green vegetables contain so many vitamins, minerals and antioxidants that they may help stave off everything from colds to cancer, but did you also know how delicious they are?

Fifty Plates of Greens shows you 50 delectable ways to prepare 14 varieties of greens.

From stews to stir-fries and pasta dishes, you will learn new ways to prepare and enjoy greens. All recipes are vegan, low-fat, and designed to promote good health. What's more, most of the recipes are gluten-free, and the few that aren't include gluten-free substitutions. The majority also consist solely of whole food ingredients, sure to please anyone trying to eat a "clean" or unprocessed foods diet. And since the recipes contain no added sugar, cheese or butter, they are ideal for anyone watching sugar intake or trying to control weight.

Isn't it time to eat more greens?

Check out Fifty Plates of Greens today!


------------------------------------

Perhaps you are wondering why DailyVegetarianRecipes .com hasn't been updated in a while? I am focusing on the Vegetarian Light blog and Facebook page.

Check out the blog at: http://dailyvegetarianrecipes.wordpress.com/

Check out the facebook page at: http://www.facebook.com/vegetarianlight

------------------------------------

Week of April 12-18, 2010
Sunday, April 18, 2010
Vegan Taco Salad
Creamy avocado and a zesty veggie taco filling are the stars in this colorful salad.
Veggie Taco filling
3/4 cup ground veggie burger
1 tbsp. olive oil
½ tsp. chili powder
½ tsp. cumin
1 tsp. cilantro
¼ tsp. garlic powder
½ tsp. diced onion
dash of cayenne
1/2 cup of water
½ cup red beans (rinse and drain if you are using canned beans)
About 3 cups of your favorite lettuce (I used red leaf)
1 avocado, cut in chunks
¼ cup black olives
¼ cup vegan sour cream
1/3 cup salsa
diced purple onion (optional)
diced tomatoes (optional)
tortilla chips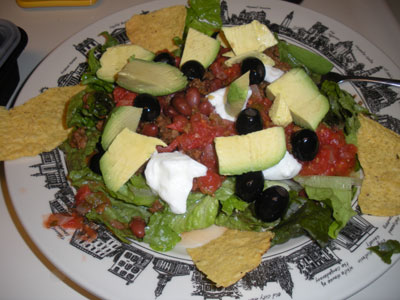 1) In skillet on medium-high heat, heat olive oil. Then add ground veggie burger and next 6 ingredients. Stir together for a few minutes.

2) Add water and bring to a quick boil, then reduce heat to a simmer. Simmer for about 10 minutes, stirring occasionally.

3) Meanwhile, assemble lettuce on the bottom of two plates and prepare other ingredients.

4) Add prepared veggie burger onto lettuce. Then add beans, avocado, black olives, vegan sour cream, salsa and any other desired toppings.

5) Garnish with tortilla chips.
Serves Two

----------------------
Saturday, April 17, 2010
Barbecue Mock Chicken
Quorn brand mock chicken cutlets can be used with a variety of different sauces.
2 Quorn brand "naked" mock chicken cutlets
Sauce
½ cup ketchup
1 tbsp. yellow mustard
1 tsp. brown sugar
2 dashes cayenne
Dash of tabasco
½ tsp. minced onion
¼ tsp. garlic powder
¼ tsp. ground mustard
½ tsp. cumin
Salt & pepper
Preheat oven to 400 degrees.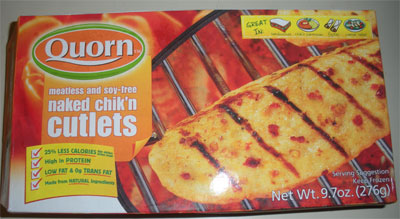 1) Blend sauce ingredients together in a bowl.

2) Dip mock chicken in sauce, completely covering it. Place mock chicken in cooking dish and cover with remaining sauce.

3) Bake at 400 degrees for 18-20 minutes.
Serves Two.

----------------------

Friday, April 16, 2010
Old-Fashioned Blackberry Cake
A friend of mine found this recipe in her mother's kitchen. The recipe is probably at least 30 years-old. I had never seen a recipe for blackberry cake so am intrigued. If you try this recipe, please let me know how it turns out. I plan to try it over the Summer.
2 cups flour
2 cups Blackberries (cooked & drained)
¾ to 1 cup blackberry juice
1 ½ cups sugar
½ butter (or butter substitute)
3 eggs (or equivalent egg whites)
1 tsp. cinnamon
1 tsp. ground allspice
1 tsp. nutmeg
1 tsp. soda
Preheat oven to 325 degrees.
1) Cream together sugar and butter. Add eggs and beat.

2) Sift together flour and other dry ingredients. Add these to the sugar mixture.

3) Fold in the berries and juice.

4) Bake in an angel food pan at 325 degrees for about 1 ½ hours.
5) Top with whipped cream or your favorite frosting.

---------------
Thursday, April 15, 2010
Pineapple Casserole
A friend of mine provided this recipe from her collection. It's deliciously different. Perfect for a special brunch.
20 oz. can chunk pineapple in its own juice--DO NOT DRAIN
1 c. Shredded low-fat cheddar cheese
3 tbsp. flour
1/2 cup sugar
1 sleeve Ritz crackers
1/2 cup butter
1) Mix pineapple and cheese together thoroughly in a one quart casserole dish.
2) Add 3 tbsp. flour and 1/2 c. granulated sugar. Stir into the mixture.
3) Cover the top with 1 sleeve Ritz crackers CRUSHED
mixed with 1/2 c. melted butter.
4) Bake at 350 degrees for 35-40 minutes. You can double the recipe for a group of 8 or more people.

---------------
Wednesday, April 13, 2010
Crispy Mock Chicken Sandwich with Vegan Lemon Caper Mayo
Tangy mayo with capers and lemon gives this sandwich a twist you won't be able to resist.
2 Quorn brand crispy chik'n patty
Lettuce leaves
Roasted red peppers
2 tomato slices (if in season)
2 whole wheat buns
Vegan lemon caper mayo
3 tbsp Vegenaise
1 tbsp. coarse grained mustard
Juice of ½ lemon
1 ½ tsp. capers
¼ tsp. ground black pepper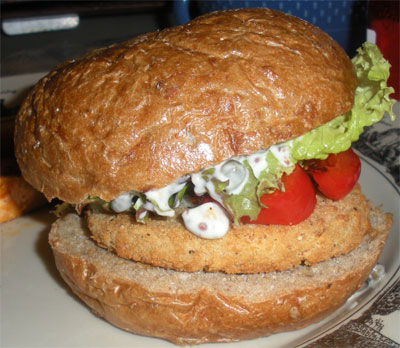 1) Cook crispy mock chick'n patties in oven, according to package directions.

2) Meanwhile, mix together ingredients for lemon caper vegan mayo.

3) Toast buns slightly.

4) Place one crispy mock chik'n patty on a bun. Top with 2 or 3 pieces of roasted red pepper and 1 or 2 lettuce leaves. Spread ½ of the vegan mayo on the top bun. Make into a sandwich and serve.
Makes 2 sandwiches.

---------------
Tuesday, April 12, 2010
Mary's Strawberry Bread
My friend Mary created this recipe. It calls for frozen berries, but I bet fresh berries would be good in it too, especially since strawberry season is about to start, at least here in Virginia.
3 c. all purpose flour
1 tsp. soda
1/2 tsp. salt
1 tbsp. cinnamon
2 c. sugar
3 beaten eggs
1 c. vegetable oil
(2) 10 oz. packages of thawed (frozen) strawberries
1 c. chopped pecans (optional)
1) Chop strawberries well so that there are no large pieces. Large chunks of berry will leave holes in the bread.
2) Sift and blend together dry ingredients.
3) In a separate bowl mix together the eggs, oil and berries.
4) Add together the dry and wet ingredients, and mix well. Pour into two greased and floured loaf pans (9x5x3). Bake at 350 degrees for approximately one hour.
Makes two loaves.
---------------
Monday, April 11, 2010
Peanut Soup
Peanut soup can trace its roots to Colonial Williamsburg.
1 cup of smooth peanut butter
4 cups vegetable broth
1 medium onion, chopped
2 celery stalks, chopped
3 tbsp. of flour
1/4 cup of butter or butter substitute
1/2 cup low-fat milk
1) In large kettle, cook onion and celery together with butter until tender.
2) Add flour and broth. Stir until well blended.
3) Cook until heated through. Add by ladles to a blender and blend to smooth consistency.
4) Return to a new kettle. Stir in peanut butter and milk and heat.